When Andy and I were looking at diamonds for my engagement ring years ago, I fell in love with my current stone because it is sparkly, crisply white, and a well-proportioned oval. I remember our consultant mentioning in passing that the diamond had some fluorescence. When I pressed her on the implications of that, she explained that fluorescent diamonds can sometimes look "oily" in bright light (whatever that means). I didn't think much of it at the time. But for years thereafter, when I would glance at my ring in full sun, I had a nagging feeling that its fluorescence was somehow a flaw–even though, had I not known, I never would have thought a thing of it.
Fast forward to this year. I was recently scrolling through Instagram and saw an ad for Luminous Diamonds, which are marketed as being extra fancy because they are fluorescent! Somewhere along the way, this unusual property has been elevated from a less-than-desirable characteristic to an actual selling point:
---
So what exactly is fluorescence? According to the Luminous Diamonds website:
When conditions are just right, the nitrogen atoms in natural diamonds form patterns of perfect triangles, or 'N3 centers,' which reflects light in a truly unique way. Rather than being transparent in UV light, diamonds with sufficiently high quantities of these 'N3 centers' absorb and transform invisible UV 'black light' into a beautiful blue glow.
The way to test fluorescence is to shine a black light on a diamond and see if it glows (side note: it's interesting that so many things that are invisible to the naked eye magically appear under black light–I'm looking at you, gross hotel rooms!). Simple as that.
Here is a demonstration with my very own engagement ring that shows its medium fluorescence:
Naturally, I was curious to test my other diamond pieces, as well. I discovered that, of the 17 individual diamonds on my eternity band, 3 are fluorescent–one extremely so (see below)–and 14 are not at all:
The center stones in my diamond studs, featured in this post, are not fluorescent at all, but some of the supporting diamonds in the halo are:
If you'd like to test your own jewelry at home, you can purchase an inexpensive black light here (and when you're done investigating your diamonds, you can look for bed bugs and dog urine around your home. How exciting!).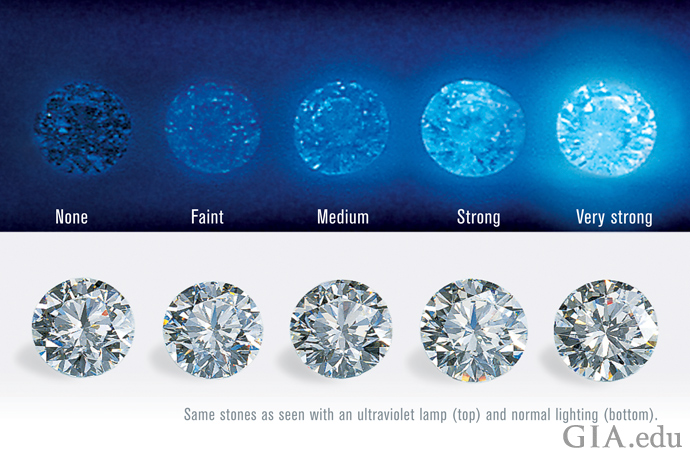 ---
So, does fluorescence affect the value of a diamond? According to this source, it depends on the underlying color of the stone and the strength of the fluorescence. For diamonds with a hint of yellow, blue fluorescence can actually make the diamond appear white or colorless. So very strong fluorescence in a diamond with color I through M (where D is colorless and the closer you move to Z the stone becomes yellower) can increase the value of the stone up to 2%, whereas the same fluorescence in a colorless diamond can decrease the value by 3-15%. Read more here and here.
---
Who knows whether Luminous Diamonds will have real sticking power or be a (glowing) flash in the pan. In any case, I've come to appreciate my fluorescent diamonds as exemplars of a pretty cool and unique scientific phenomenon.